News: Tandoori Chai Now in Indore!

An ingenious tea-seller in Pune created waves amongst chai lovers with his Tandoori Chai a few months ago. We heard of people travelling from across the state to taste this innovative, smoky tea.
Image Courtesy: IFN
You can now savour this remarkable Tandoori Chai in the heart of India! Indore residents should head to Fursat Chai Cafe - which has announced the launch of their own tandoori chai in the city.
We cannot imagine a more perfect time to sip on a chai with a smoky tandoori twist. Tandoori chai is made by first roasting earthen clay pots (kulhads) in a hot tandoor. Now the semi-cooked elaichi chai is poured over the hot clay pot and left to sizzle and blend with its earthy flavours. The infused tea is then transferred to another vessel and poured into fresh kulhads.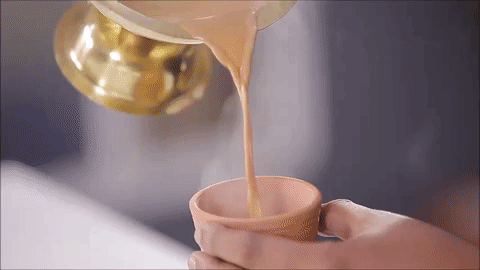 The aroma of tandoori chai is as enticing as its taste and is best enjoyed with crunchy moong bhajiyas for double the fun.
What are you waiting for?